It's nearing the end of another terrific year. But you know what that means. New Year's Eve is on the way!
Celebrate the new year with all these great New Year Eve crafts! There's something here for the whole family to get involved.
Keeping in theme with the New Year, there's plenty of glitter, bright colors, and other celebratory elements.
But first, a little crafting update from me…
On My Needles
Having finished my Honey Cowl, there is nothing on my needles at the moment.
I will be sure to share my next knitting project with you when I decide what I will make 🙂
If you have a work in progress, I'd love to see a pic.
My eldest has been busy making for the holiday season.
Here is a pic of the latest creations. They are called God's Eyes.
God's Eyes hold significance for many different cultures, from all periods of history.
Most associate them with many Mexican communities. They believe that the God's Eye, (or Ojo de Dios as it's known in Spanish,) have the power to see and understand things beyond the physical eye.
For some tribes, they offer spiritual guidance and clarity in rituals.
They also make great decorations and are an easy and fun craft for kids.
Jackie from Happy Hooligans has an excellent tutorial.
Crafty Tools – Making Your Everyday Better
Craftsy has some fabulous offers for their 12 Days Of Craftsy and Bluprint sale. *Affiliate Links
An Exclusive Gift for You – 2 FREE Classes + $100 For Supplies

Get two free classes and $100 to spend on supplies when you sign up for a year of Bluprint.
Offer ends: 12/12/2018 11:59 pm MST
12 Days Of Craftsy – A New Gift Every Day!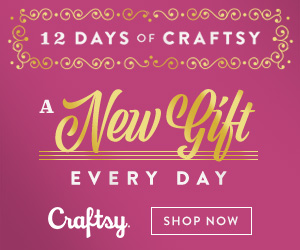 Stock up for the holidays while you still can! Get the best deals on classes, kits, supplies and more.
Celebrate 12 Days of Craftsy — now through December 12.
Offer ends: 12/12/2018 11:59 pm MST
Enjoy 50% Off All Holiday Season

Sign up for a Bluprint subscription today, and Craftsy will automatically take 50% off the full price of your Craftsy items every time you shop from now until December 31.
Offer ends: 12/25/2018 11:59 pm MST
Top 10 Craft
Thinking about bringing in the New Year, I am excited about the possibilities of 2019.
Guests will be so impressed by your efforts if you manage to create any of these New Year Eve Crafts.
I know Christmas is only weeks away and that in itself is exciting!!
I hope you are looking forward to New Year's Eve and a thoroughly inspirational and creative 2019!!
Here is the NYE inspired crafty goodness for this week…
Create Paper New Years Fortune Cookies
Making paper fortune cookies is fun, and your guests will enjoy the New Year messages.
You can create your own messages or use the prepared printable Amanda made.
Follow the easy to do tutorial on Crafts By Amanda.
Party Horn Props For Great Photos
If you love to have fun photo memories of your New Year's Eve celebrations, then this craft project is for you!
Create large mouths to put party horns through.
Follow the tutorial on DIY Candy.
Surprise Balls For New Year's Eve
As Jen from Mama Papa Bubba warns, this is a messy project.
The delight it holds is so worth it!
Pack in little gifts through the layers.
The foil glitter says 'party time' to me 🙂
DIY Glitter Holiday Party Hats
Keeping with the theme of glitter, these DIY New Year hats are gorgeous.
Choose whatever color glitter works for you.
Follow Kelly's tutorial on Studio DIY.
New Years Noise Makers
This New Year Eve craft project uses small recycled cardboard boxes.
They are then decorated and filled with materials that make noise when shaken.
Follow the tutorial on Alphamom.
Kids will particularly enjoy making these.
DIY New Year's Eve Ball
This is a quick and easy craft project for New Year's Eve.
Follow Jen's tutorial on Tatertots and Jello.
Make Your Own New Years Confetti Pinata
This pinata was created back when 2017 was on its way 🙂
The instructions will still help you make a number-themed pinata.
Follow the tutorial on Oh Happy Day.
Guests will be super impressed with your craftiness!
DIY Confetti Poppers
Kids will love to get involved in creating these confetti poppers.
Using recycled toilet tubes, they turn out great!
Use colored markers to make them stand out.
Follow the tutorial on Smashed Peas and Carrots.
New Years Eve Party Crackers
Add New Year's resolutions to these DIY party crackers.
Give all your guests something to aspire to in the coming year.
Follow Chelsea's simple to follow tutorial on Do It Your Freaking Self.
Clock Backdrop For Your NYE Party
If you love inspiration for NYE party themes, the ideas in this post from the Crafting Chicks look fabulous.
Check out how to make a clock backdrop.
Editor's note: Our readers have said, in their free time, they love going back over previous editions of our roundups.
– So we've kept the crafty goodness below from this time last year.
Ombre New Year's Eve Pinata
Stunning New Year's Eve Pinatas by the team at Lia Griffith to wow your guests with, as part of your New Year's Eve theme.
Plus your guests get to give it a wack to reveal the treats inside!
DIY Confetti Poppers
Using recycled materials and gift paper you have in your cupboard, you can very easily create Confetti Poppers.
Use Erin Spain's tutorial for how to make them.
Gold Fringe Party Hats
Simple to create with just a few materials required.
Your guests will get into the party spirit with these gold fringe party hats designed by Molly at Almost Makes Perfect.
New Year's Confetti Favors
Give your guests an opportunity to make a wish for the coming year, as they throw your handmade confetti!
Use any color scheme you like and of course, add some sparkle with sequins and stars.
Fabulous New Year's Eve Games To Play
Britini at Play Party Plan has outlined how to play some fun games with friends and family at your New Year's Eve bash.
New Year's Eve Star Crown
Feel like a princess as you bring in the New Year with this beautiful Star Crown!
Follow the tutorial at The House That Lars Built to make your own.
Photo Booth Props
Create a real party atmosphere with a dash of silliness. Kids and Adults will love it!
Capture the memories by setting up a "Photo Booth' area and use these DIY Photo Booth props.
Follow the tutorial on The Life of Jennifer Dawn.
Fireworks Sparkler Craft For Kids
Something for the kids to make and enjoy for New Year's Eve celebrations.
Fireworks Sparklers are simple to do and an alternative to lighting a sparkler 🙂
Follow Emma's tutorial at Kids Craft Room.
Tissue Paper Pom Poms
What a gorgeous addition to your New Year's Eve Party Room 🙂
Learn how to make your own Tissue Paper Pom Poms, by following Tori's tutorial at Thoughtfully Simple.
Just a note they are time-consuming but so worth it!
Delicious Non-Alcoholic Drinks To Celebrate With
An excellent selection of drinks for getting into the party mood without alcohol!
They look so gorgeous and taste delicious!
Check out the Mocktail recipes by the team at Tablespoon.
DIY Countdown to 2017 Balloon Game
Make the countdown to 2017 a fun game with lots of balloons, fun for everyone 🙂
Enjoy whatever crafting you get up to this week 🙂 Hoping it is some New Year Eve Crafts!
For an inspiring read about a man who was knitting on the subway and a celebrity posted a photo of him on her Facebook page. Now his business is flourishing! Ahh, the power of social media for good 🙂
Until next week…
Yours in Craftiness 😄
Jodie
P.S With Christmas not far away, The Twelve Days of Craftsy are back – now through December 12th! Until then, you will see a brand new deal on Craftsy each day, on classes and supplies.
Days 11 & 12 will bring two big site events – all at once.
P.P.S Just a little bit chuffed with the fact, I finally finished the crochet blanket for my youngest. Her arms are outstretched, and she is holding it up 🙂