Black Friday Craft Sales & Cyber Monday Crafty Deals – The Ultimate Guide On What Not To Miss In 2021
I'll be adding more Black Friday craft deals here , so bookmark this page and check back to see what else is on offer.
Black Friday (26 November 2021) and Cyber Monday (29 November 2021)
Always an opportunity to find incredible deals, sales, and bargains.
I will add to this post whenever new deals are announced. Be sure to check back to see new bargains 🙂
Editor's Note – This post was last updated on 5November 2021
My guide to Black Friday Craft Sales and Cyber Monday has top tips, so you're ready for an excellent online shopping experience.
Are you looking for Knitting deals? Check out The Ultimate Guide To Black Friday Yarn Sales and Cyber Monday Knitting Sales here.

Top Tips – Get The Most Out Of Your Black Friday & Cyber Monday Shopping Experience
Tip 1- Set Up Online Accounts Now
Most online stores prefer you create accounts. Save time when shopping for those bargains on Black Friday. Sign up to the stores now.
LastPass is a great password manager. It's super easy to log into the accounts you've created. It saves the necessary details for you.
Tip 2 – Write A List
You've most likely got some items you've wished for that would be an excellent addition to your crafting experience.
Black Friday deals and sales mean a new sewing machine or craft supplies are affordable. Put together a list of 'must-haves,' 'wishes' and gifts.
Christmas gift-giving is sorted!
Tip 3- Search Online
Online shopping can be done from anywhere with internet access! Sitting in the comfort of your home is better than making a mad dash to a store and waiting in endless lines.
You've also got your phone. When you have time, researching deals and shopping online takes a few taps.
Tip 4 – Stick To Your Budget
We can get caught up in the sheer delight of finding bargains. Overspending happens quickly! Set yourself a budget before you get carried away.
Tip 5 – Shop Online Securely
It's important to shop smart online. At any online checkout page, make sure it's secure. The page is protected if it has "HTTPS" in the address, and there's a green padlock on the left-hand side of the address bar.

Tip 6 – Price Comparison
Check online price comparison sites such as ShopSavvy for items on your wishlist before you shop. You'll know what the current prices are like. Research stores online or offline to check for the best discounts.
Tip 7 – Be Aware of Return Policies
Make sure you read the fine print of a sale item's return policy.
Tip 8 – Hunt for Bargains
Sign up for retailers' e-newsletters, so you know about any awesome deals.
See what your Credit Card Provider reward store has on offer. Then pay for your Black Friday shopping with your credit card and top up your rewards.
Tip 9 – Be Social
Keep your eyes on retailers' social media pages. They often promote deals through Twitter and Facebook. You might stumble on something you were looking for.
Tip 10 – Expect to Start Early
Online stores never close. From the stroke of midnight, super-duper discounts may appear. Be ready to snag a bargain.
These deals have now finished
Old Black Friday Deals & Early Specials
Get 3 months for $1 at Creative Bug!
Holiday Sale now on at Creative Bug! Enjoy unlimited access to thousands of online art and craft classes.
Black Friday & Cyber Monday Sales at Arteza
Stock up on art supplies and enjoy Pre Black Friday sales of 15% off site wide. On Black Friday take advantage of up to 60% off.
Lion Brand It's A Lot Yarn Sales
That's a lot of yarn! Think what you can make with a full case of your favorite yarn! Skeins are as low as $1.00 each when you order an entire case of yarn!
Shop Lion Brand.
Knit Picks Holiday Store
Shop the crafty goodness at Knit Picks Holiday Store.
Darn Good Yarn 40% Off Site Wide
Etsy Black Friday Sales Up to 60% Off
Cricut's Best Deals Of The Year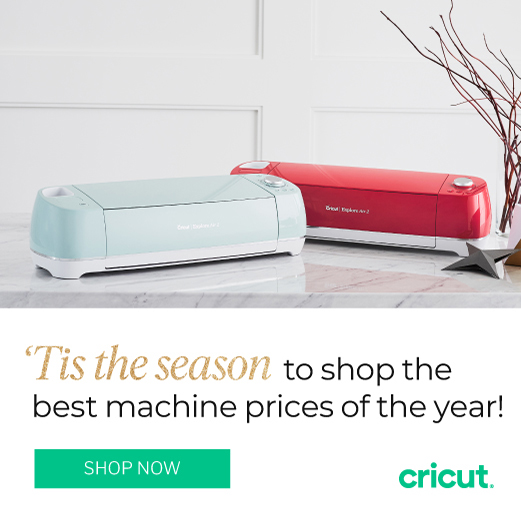 Great Savings and Gift Ideas From Blick!
Now is the time for BLICK gifts for artists! Find something to fit every budget!
Enjoy 15% Off Orders of $35 or More, 20% Off $85 or More, 25% Off $125 or More, 30% Off $259 or More, a $10 Free ECoupon on $150 or More, and Free Shipping On Orders of $25 or More! Promo Code WKD2019. Exclusions apply.
BLICK Cyber Deals Are Here!
Blick Gift Ideas
I will be updating this post regularly, so keep coming back to check what crafty goodness is on offer.
Have fun and let me know what excellent things you bought.
Be sure to share this post with your other craft loving friends.
Could you do me a favor, please forward this in an email and share via your social networks.
Yours in Craftiness Jodie 🙂